Hello, bonjour, สวัสดครับี, nǐ hăo, chào, hola, olá, ciao, Добрый день […],
welcome to my first blog post – I am really glad you have visited! In this post I will tell you a bit about me and how I discovered percussive fingerstyle as well as what I've planned with this blog. Well, let's start here we go:

"Me and my guitar"

My name is Tobias and I am an percussive fingerstyle guitarist living currently in Berlin, Germany. I started to play the guitar at the age of 14 with a focus on the electric guitar, playing mainly heavy & rock music. I started off learning on my own along with books and advice from friends. Later I got a teacher for around two years in total. I usually played up to 6-8 hours a day as it was my absolute passion. Even in summer when friends asked me to go out for a swim I sometimes preferred to stay at home jamming along to Metallica … How boring huh? NOT AT ALL – at least for me as this was exactly what I wanted.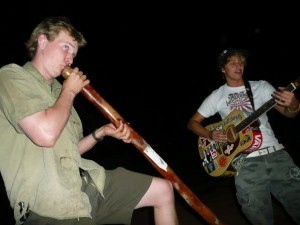 A couple of years later I took one year off after graduating from high school to travel places. The only things I had with me were a backpack and of course … an acoustic guitar! For those who are interested I bought an Ashton guitar in Sydney Australia that was quite affordable but came with a great sound for its price.  After half a year someone threw his suitcase on it and broke the head off so I actually bought it twice.
Only having an acoustic guitar with me made me play different songs and I started to learn fingerpicking. I always got really positive feedback regarding my playing and could more or less play everything until that one day while we were camping in the Outback of Australia. A girl from Switzerland was handing me over her Mp3-player and said: "Hey, have a listen to this song, can you play it?". So I took the earplugs and listened… This particular song was Rylynn by Andy McKee. I had never heard this song nor heard of this guitarist before, but I was totally amazed by what this guy was doing with only his guitar – wow. That moment was very special as it opened up a whole new level, no a whole new world of the guitar for me I was not aware of but eagerly wanted to explore from now on.
This new guitar style solved a big problem: I love to compose own songs and I even write lyrics to express myself through music but – I can't sing! I mean at all! Really you don't want to hear me sing. Therefore, I was always dependent on bands and or singers to make music with. But as I am a night owl being most creative at later hours when I am usually on my own, percussive fingerstyle gave me the ability to create complete songs without necessarily needing a singer to complete the pieces and transfer the message and emotion. Thus, I put my focus on the acoustic guitar and tried to become as good as I could. And I tell you what, this was not practicing for me it was so much fun! Sometimes when I for example learned a percussive fingerstyle song it gave me a great challenge and I loved playing it over and over and over again… you wouldn't want to be my neighbors, that is for sure. 😉
Alright, I hope I could give you some little insights about me and how I found out about percussive fingerstyle.

Why this blog?
I am really overwhelmed by all the positive reactions on my YouTube videos and how fast the views and you the community is growing. Many of you contacted me and asked for advice, tips and recommendations regarding the guitar, be it choice of strings, guitar models, techniques, exercises, recording and so forth. This brought me to the idea to create a blog where I can provide you with all that in one place as good as I can.
Besides that I think that I have quite a few really cool fingerstyle riffs I made up over the time but somehow never really used them in songs so far. They basically slumber somewhere in my mind but are not used. So I thought I could post them as well here so that you can learn them, jam around and maybe get inspired to compose your own songs. At least I can share them and they don't remain solely parked in my head :).

What is this blog about?
Well, I did not decide completely as I rather want to see how things evolve, but I planned to post updates as said on equipment, recording gear and set ups I use, as well as lessons including video tutorials, advice, behind the scene material, music in general and so on. I hope that this blog will be able to provide helpful advice and input for you to improve your skills on the guitar as well as giving you updates and insights about my music.
I am not quite sure how often I will be able to post here but we will see. If you have certain wishes or requests I try to consider them, just let me know.

Keep in touch
Last but not least I have planned to set up a mailing list to let you know first hand about new posts and updates such as new videos, albums, free guitar lessons and other important stuff. Of course I hate spam too and promise to never ever spam you (I am a lazy writer anyway 😉) or give away your email address – promised!
So if you want to stay updated and be the first to see new videos I'd be happy to welcome you on my mailing list.